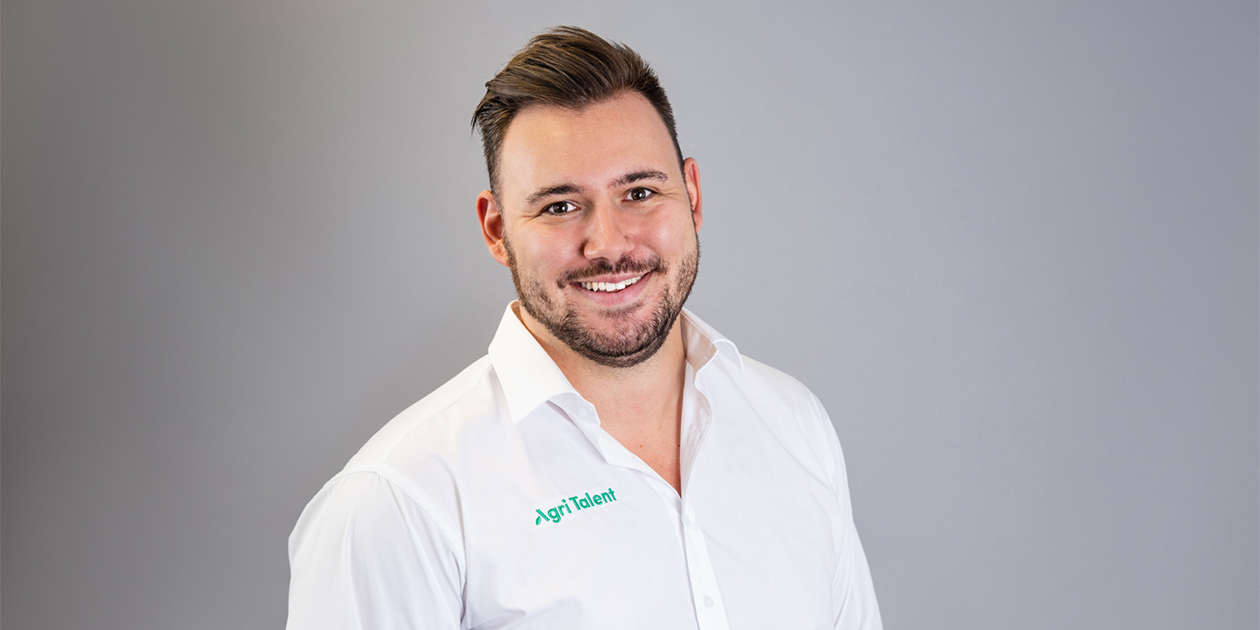 Who: Nick Marchant, Principal Consultant
Specialising in: Horticulture, Broadacre, Cropping & Grain
Key Skills & Abilities
Understanding a brief – A client brief is an essential foundation of understanding when recruiting for permanent jobs in the agriculture industry. There's often a lot more behind a brief and exploring the bigger picture of where else that role influences or impacts across a client's operation can make a huge difference to how we target candidates.
Commercial acumen – Understanding the structure and operational side of a client's agribusiness is paramount to delivering the right candidate. My time in the industry has given me strong grasp of the market and environments in which I work, enabling me to meet and understand the needs of my clients.
Adding value – I genuinely get a kick of working beyond the brief with a client. My role isn't limited to just sourcing a candidate, it's also about looking at the bigger picture, the client's business goals, possible development strategies and then tailoring what I do to really support their future aspirations. I love the collaborative nature of the role and developing those long term client relationships where you really see their business progressing.
What trends or changes have you seen across the agriculture recruitment sector since the onset of COVID-19?
From my perspective, I believe the pandemic has created a lot of uncertainty for all industries, not just agriculture. Media portrays a dire employment situation however agriculture has been less affected than most industries and continues to thrive in these challenging times.
I do see candidates being more careful about agriculture roles they may have jumped at six months ago. People have been waiting for the job market to change or for COVID to subside, but with that not happening it will be interesting to see how people adapt to make their agriculture careers work with the restrictions, rather than the other way around.
Positives and negatives of industry changes from COVID-19?
Negatives: challenges with relocating candidates from interstate and a lack of rental properties on the market in rural and regional areas.
Positives: many SME agriculture companies have really embraced technology and put in great effort to positively engage potential staff. Adapting their normal techniques to interview more people than normal and doing live walk throughs of farm sites and their operations allows candidates to still able to get a feel for the business and the people they'd be working for.
As a recruitment consultant, how have you adapted to the restrictions?
I've been working with candidates to develop their presence when it comes to presenting themselves in an online interview format. Interviews can be daunting for many at the best of times and made even harder by performing it through a camera. At Agri Talent we support and guide both candidate and client to be as comfortable and natural as they can in these environments.
What advice do you have for people who are considering careers in the agriculture industry?
The agriculture industry is unlike any other industry I have worked in. The companies I work with range from large agribusinesses to smaller family owned farms, however the one consistent thing I find throughout the agriculture industry, is the people. Humble and hardworking, there's little ego but lots of positivity and plenty of great humour.
There's also a lot of development within the horticulture and broadacre sectors of agriculture that allow for rapid career growth if you're prepared to learn the ropes and put in the effort. With plenty of technological advancements across agriculture as a whole, there's always something exciting and new to be experiencing if you're willing to try it out.
What advice do you have for agriculture operators who are looking for great candidates?
When developing a role, it's important to assess the attractiveness of the job and reflect on 'what's in it for the candidate?' For many people working in agriculture, it's not just the salary, it's about the value adding options of workplace culture, the local community, accommodation and staff development programs. All these factors are hugely motivating and what can effectively keep people in their roles for the longer term.
What do you see in the future for agriculture recruitment?
Agri Talent is dedicated to raising and setting standards when it comes to developing strong recruitment processes for permanent roles within agriculture and we remain focused on continuing to add value to this exciting Australian industry.